Take a look at the latest recipe from our friends at Ringwood Brewery! This month's addition is a summer staple – tender beef burgers served with a classic Razorback.
Looking for an easy to make recipe full of flavour to keep you and your family going on your leisure vehicle adventure this summer? Well, we've got you covered with this beef burger recipe! And we're even giving you the perfect accompaniment, Ringwood Brewery's Razorback beer. This malty beer has a mellow bitterness that compliments the beef and tomatoes perfectly, whilst offsetting the red onion and spicy relish.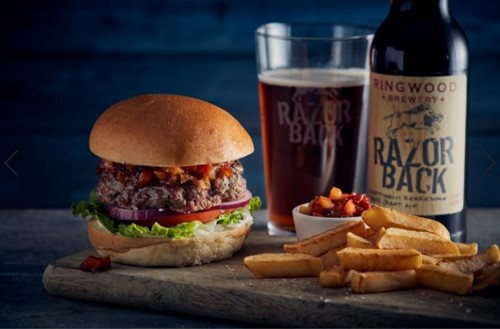 What you need to get cooking
Beef Burger x 4 people
800gr minced beef
100gr panko breadcrumbs
2 egg yolks
4 x brioche bun
1 x baby gem lettuce
200gr sliced red onion
1 x beef tomato
Salt and pepper to taste
800gr chips (preferably skinny chips)
Method
Mix minced meat with egg yolks and breadcrumbs, and season
Form the mixture into 4 patties and set aside in the fridge to set
Slice the bun in half and toast
Add relish (recipe below) to the bottom of the bun
Top with washed baby gem lettuce, sliced red onion and a slice of beef tomato
Remove burger patties from the fridge, sear in a hot pan on both sides and cook in the oven at 200c for approximately 8/10 minutes
Place the burger on top of the bun, add some more relish, the bun lid and serve with an ice-cold Razorback and chips
Relish x 4 people
100gr chopped shallot
10gr chopped garlic
10gr chopped red chilli
10ml olive oil
50ml red wine vinegar
50gr caster sugar
10gr tomato purée
300gr chopped tinned tomatoes
4 x ripe tomatoes seeds removed and diced
Salt and pepper to taste
Method
Sweat down shallot and garlic in a pan
Add chilli, sugar and vinegar, and reduce by half
Add chopped tomatoes and tomato purée, and simmer for 20/25 minutes until reduced and thickened
Remove from heat, season to taste and allow to cool
When cooled, add de-seeded and diced fresh tomato
Check seasoning and serve in and alongside the burger
For other Ringwood Brewery food and beer pairings, check out the pulled pork burrito with the fruity Boondoggle, Tandoori wrap for the BBQ with the full flavoured Circadian or the succulent slow cooked sticky BBQ ribs with the golden Fortyniner craft ale.
Are you looking for somewhere to enjoy one of these delicious food and beer pairings? Check out these top destinations right on your doorstep. Ensure comfortable travel this summer by hiring your very own leisure vehicle.