Another month means another mouth-watering recipe from our friends at Ringwood Brewery. This time we explore the deliciously fruity Boondoggle ale paired with the Mexican fiesta that is the pulled pork burrito.
With its moreish fruity taste and hoppy yet citrussy aroma, the blonde Boondoggle is the perfect accompaniment for Mexican dishes, whether spicy or not. This dish is perfect for a lazy weekend at home or to pack with you on your leisure vehicle adventure.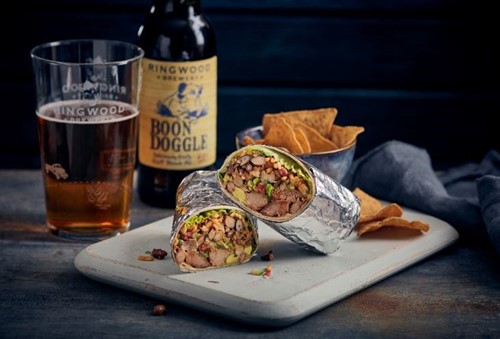 What you need to get cooking
Pulled Pork Burrito x 4 people
4 x 12" tortilla wraps
500gr cooked pulled pork shoulder meat
125gr BBQ sauce
200gr cooked rice
1 x baby gem lettuce
20gr cooked chickpeas
20gr cooked red kidney beans
20gr cooked black eyed beans
Salt and pepper to taste
Avocado salsa (recipe below)
Method
Preheat oven to 200c.
Combine pork with beans, peas, rice and BBQ sauce, and season.
Add avocado salsa, but reserve some to serve on the side of the dish.
Place approximately 2 baby gem leaves onto each wrap.
Top with the pork mix and roll.
Wrap burrito in foil and bake in the oven for approximately 12/15 minutes.
Remove from oven, slice and serve.
Avocado Salsa x 4 people
1 x ripe avocado, peeled and chopped
2 x tomatoes peeled, deseeded and chopped
30gr chopped red onion
20gr chopped chilli
5gr chopped coriander
Zest and juice of 1 lime
Salt and pepper to taste
Method
Peel and dice avocado.
Deseed and chop the tomatoes.
Mix avocado and tomato with chopped red onion and chilli.
Add chopped coriander, lime juice and zest.
Season to taste
Garnish with tortilla chips for a little crunch, and don't forget the reserved avocado salsa and an ice-cold Boondoggle!
For other Ringwood Brewery food and beer pairings, check out the tandoori wrap with the full flavoured Circadian, or the succulent slow cooked sticky BBQ ribs with the golden Fortyniner craft ale.
Do you need somewhere fabulous to sip your beer and chomp down on your feast? Look no further, Cornwall has plenty of beaches that are just waiting for your arrival. Hire yourself a leisure vehicle and get on the road to freedom now.