Be sure to discover some of these stunning locations on your next trip to Wales...
Llangolen

A short drive east of Snowdonia National Park sits the small town of Llangolen, situated on the River Dee with a collection of stunning mountains nearby. The town is rich in history with many ancient castles and bridges still fully functioning to this day, this makes walking through the town an adventure in itself with weird and wonderful monuments dotted throughout. With just over 3,000 people living in the town, Llangolen is a peaceful spot that also has some activities nearby that everyone can get involved in, including white water rafting and canoeing. Looking for something a little bit more peaceful? Perhaps a ride on one of the many horse drawn canal boats is more your thing?
Where to stay: Lady Margaret's Park Caravan and Motorhome Club Site
For more sites in or around Llangolen click here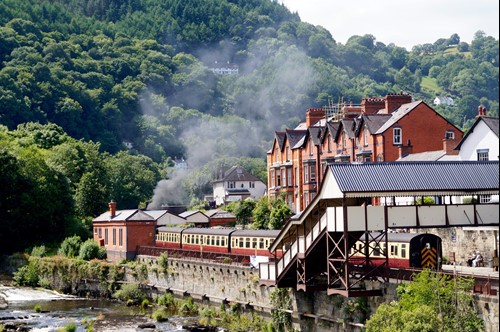 Tenby

The tranquil harbour town of Tenby is on the South West side of Wales, with Caldey Island only a ferry ride away. Tenby is renowned for its sandy beaches and its seaside town feel, whilst the paint coloured houses on the harbour are stunning. A network of narrow streets with a variety of independent shops, restaurants and bars offer an ideal opportunity to sample the latest catch and taste the local ale. Enjoy a short ferry ride to Caldey Island and experience what life is like on the 'Holy Islands' of Britain.
Where to stay: Kiln Park Holiday Centre 
For more sites in or around Tenby click here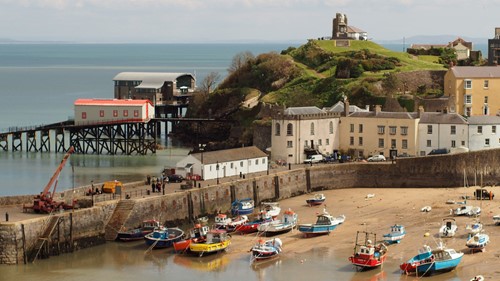 Pembrokeshire

The western most point of Wales, Pembrokeshire boasts a stunning coastline coupled with a collection of wildlife you may not see elsewhere. The best way to explore the coast is to embark on an adventure through the Pembrokeshire Coast National Park, overlooking the stunning views of St Brides Bay and the surrounding cliffs. If a beach holiday is what you're looking for, then Pembrokeshire is the perfect place for you. The county is home to over 50 beaches, one of which is Barafundle Bay, the secluded beach with clear waters and golden sands is well worth a visit.
Where to stay: Freshwater East Caravan and Motorhome Club Site
For more sites in or around Pembrokeshire click here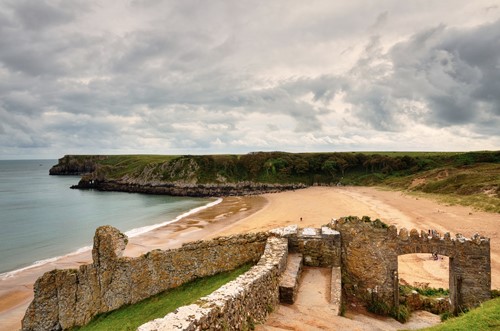 Anglesey

An Island just off the North West of Wales, Anglesey is full of sandy beaches and natural beauty. If you want to get out and about Anglesey is full of places to discover. Holyhead Mountain, the highest point on Anglesey offers a range of views of the surrounding coast and on a good day you might even catch a glimpse of nearby Ireland! For more adventures why not begin to explore some of the 125 miles of coastlines on the Isle and get involved in one of the many water sports including Paddleboarding and Kayaking.
Where to stay: Penrhos Caravan and Motorhome Club Site
For more sites in or around Anglesey click here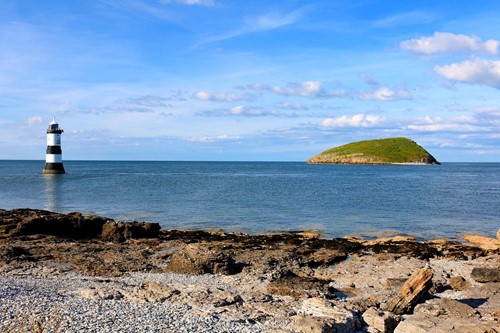 Portmeirion

On the outskirts of Snowdonia National Park sits the small and quiet village of Portmeirion. A stunning location surrounded by River Dwyryd that also has many scenic walks and vast woodlands waiting to be explored. The village itself is only 40 years old with final developments ending in 1976 as Clough Williams Ellis set about making Portmeirion (formerly known as Aber La) one of the finest attractions in all of Wales. The village today is thriving, with many people visiting each day to set foot in one of the many exotic gardens as well as sampling some of the local produce at one of the many restaurants.
Where to stay: Greenacres Holiday Park 
For more sites in or around Portmeirion click here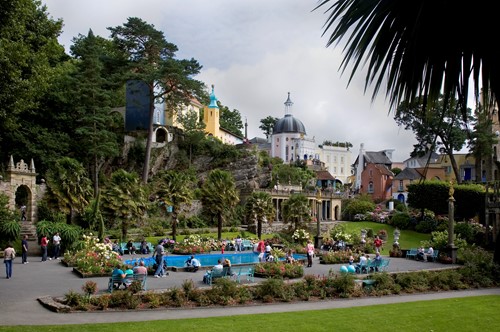 for more sites in and around wales click here