Snowdonia is home to some of the most spectacular landscapes in Britain. Stretching over 823 square miles there is something for everyone. The National Park is scattered with mountains and landforms, including the highest mountain in England and Wales, Mount Snowdon which peaks at around 3,560ft. Here are our top activities for you and your family to visit in Snowdonia...
1 - Snowdon Mountain Railway

If you're not up for the long walk to the summit of Snowdon, hop on the Snowdon Mountain Railway that has been transporting adventurers to the top of Mount Snowdon since Victorian Times. The journey will set off from Llanberis Station and end at the summit of Mount Snowdon, allowing you to enjoy what has been named the best view in the UK. You will also experience some fabulous views of the ancient landscape on your ascent including the waterfall on the Afon Hwch river. You will then travel through Car Esgob, Bishops Field and the ruins of Hebron Chapel until you eventually begin the steep climb to the summit.
Where to stay: Beddgelert Caravan and Camping Site - 7 miles from Snowdon Mountain Railway.
For more campsites and holiday parks or lodges near Snowdon Mountain Railway click here.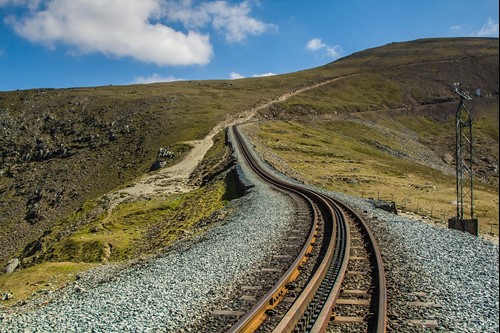 2 - Aber Falls Waterfall

Situated around 3 miles south of the small village of Abergwyngregyn is the famous Aber Falls, a remarkable waterfall that plummets over 120 feet. If you are travelling to the falls along the main pathway from Abergwyngregyn you may also come across some Bronze Age settlements on your way. It's a site of spectacular natural beauty which is enjoyed most during the winter months or during periods of heavy rainfall.
Where to stay: Penrhos Club Site - 12 miles from Aber Falls Waterfall.
For more campsites and holiday parks or lodges near Aber Falls Waterfall click here. 
3 - Zip World

With three locations around Snowdonia, you have the opportunity to explore the landscape from an angle like no other. Across the three centres there is something for everyone, whether you're looking for the fastest zip wire in the world or a treetop adventure, be sure to not miss out on this opportunity. Enjoy the spectacular views of Snowdonia and the surrounding locations from up in the sky, an absolute must for those of you who are not scared of heights!
Where to stay: Cae Mawr Club Site - 14 miles from Zip World 
For more campsites and holiday parks or lodges near Zip World click here.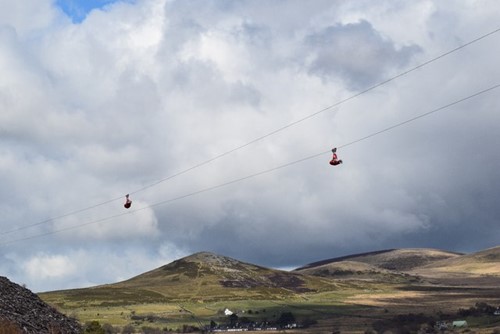 4 - National Whitewater Centre

Why not enjoy some white water rafting on the Tryweryn River on your next trip to Snowdonia. Take on this adrenalin fuelled adventure and battle some of the most challenging sequences in the Upper Tryweryn River. If you're looking for a smoother or more relaxing outing, the Lower Tryweryn provides a gentler ride. Your team work skills will be tested as you come together to tackle the fast-flowing routes of the Tryweryn River.
Where to stay: Bala Camping and Caravanning Club Site - 5 miles from The National Whitewater Centre
For more campsites and holiday parks or lodges near the National Whitewater Centre click here.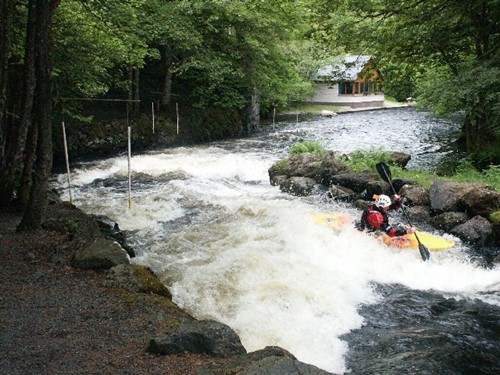 5 - Go Below Underground Adventures

Explore the underground slate mines and see what lies below the wonderful landscape of Snowdonia. You'll have the opportunity to climb, abseil or zip line through the uninhibited mine chambers underground. On your journey you will come across a series of challenges as well as abandoned mining machinery that the workers of yesteryear once used. As you continue your adventure your guide will provide you with a brief history of the mine and its origins, providing some fascinating insight into this way of life. An activity not to be missed the next time you're in Snowdonia.
Where to stay: Coed-y-Llwyn Club Site - 12 miles from Go Below Underground Adventures. 
For more campsites and holiday parks or lodges near Go Below Underground Adventures click here.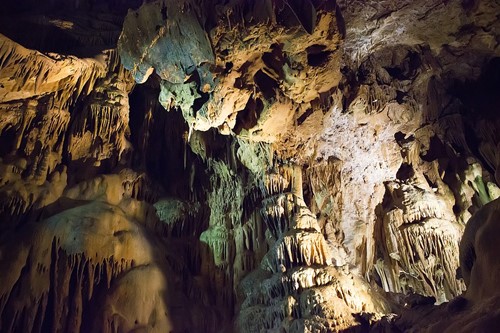 6 - Harlech Beach & Castle

Close to the Medieval castle of Harlech Castle, this beach is a fabulous location for the family, whether you want to relax, swim or explore. The beach is surrounded by glorious sand dunes which are home to a vast array of wild life. A short walk from the beach is the Castle, constructed by an army of skilled workers between 1282 and 1289 that succeeded in making the castle almost impenetrable. A newly constructed floating bridge now provides the public with much easier access to the ruins. If you're in and around Harlech during your next trip to Snowdon, make this trip a priority.
Where to stay: Min-y-Don Holiday Home Park - next to Harlech Beach & Castle. 
For more campsites and holiday parks or lodges near Harlech Beach & Castle click here. 
7 - Mount Snowdon

Snowdon attracts thousands of both full and partial ascents per year, most of which take one of 6 routes: Miners Track, Snowdon Ranger Path. PYG Track, The Llanberis Path, Watking Path or the Rhyd-Ddu Path, all of which vary in length from 7-10 miles that will see you tackle the 3,560ft mountain. This truly challenging climb will see you rewarded when you reach the summit and take in the staggering views that Snowdon offers including the view of the "magical lake" of Llyn Llydaw. The lake is said to be the resting place for King Arthurs sword Excalibur.
For campsites near Snowdon click here.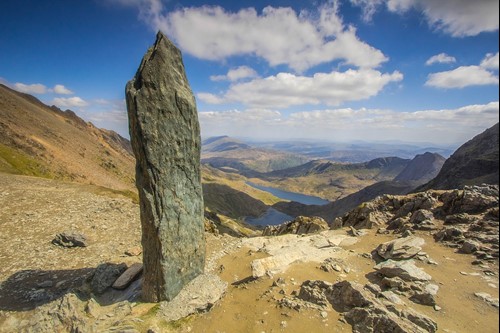 8 - National Slate Museum Llanberis

Close to the Elidir Mountain and next to the huge Dinorwig Quarry sits the National Slate Museum. The museum allows you to travel back in time and explore the slate industry. The Quarry linked to the museum was the vast Dinorwig Quarry which closed as recently as 1969. Since the closure, the Museum has been educating people on the slate industry through a number of workshops and demonstrations that are held daily at the museum by experienced quarrymen. Suitable for all the family, don't miss out on this great day out.
Where to stay: Beddgelert Caravan and Camping Site - 7 miles from The National Slate Museum Lllanberis 
For more campsites and holiday parks or lodges near The National Slate Museum Llanberis click here.