We look at some of the National Parks in the region that you simply must visit on your next trip…
Brecon Beacons National Park

The ideal location for an activity holiday, this famous National Park can be found in South Wales, just north of major cities Cardiff and Swansea. The park itself is home to a range of walking and biking routes as well as forests that are waiting to be explored. You can of course, head down under the fantastic landscape and explore some of the most exhilarating and diverse cave systems within the UK, including some of the largest limestone caves in the country.
The Park is also home to a collection of castles that make for great locations to discover. The positioning of the National Park, on the Wales-England divide meant that many castles were strategically placed to act as outposts all those years ago. Some notable castles include Crickhowell Castle, Brecon Castle and perhaps the most popular Carreg Cennen Castle.
Why not take a step back in time and explore the coal mining industry that once dominated South Wales. Still evident to this day, although no longer functioning, the Big Pit Mine in Torfaen allows visitors to experience what life was like all those years ago as they begin a journey deep down into what use to be one of the largest mines in Wales.

Where to stay: Aberbran Club Site
For sites in and around Brecon Beacons National Park click here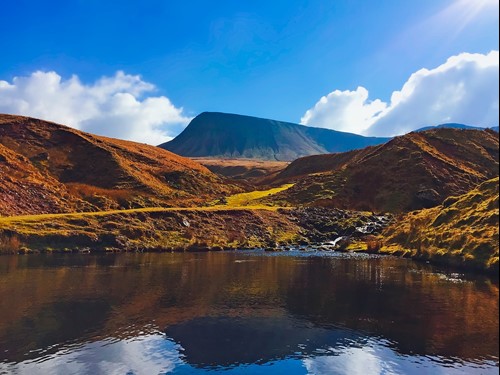 Snowdonia National Park

A mountainous National Park that features some of the best walking and cycling routes that Wales has to offer. There is of course much more than that, with many attractions that you simply will not find anywhere else including the worlds fastest zip wire at Zip World or maybe you fancy giving surfing a try at Surf Snowdonia, the inland surf lagoon set within the foothills of the surrounding mountains is sure to provide a unique experience.
With many large bodies of water, Snowdonia is a hot spot for water sports. Canoeing, kayaking and Rafting are all activities that you can enjoy at lakes and rivers across Snowdonia including the National Whitewater Centre. They provide a range of trips varying in difficulty through some of the most glorious rivers in all of Snowdonia as you test your skills against the river with the help of experienced guides.
If a slightly more relaxed break is what you're after, then why not hop on the mountain railway and enjoy a laid back approach to climbing one of the highest peaks in the UK. The ascent is sure to provide a number of unique and fantastic views of the mountains before you head above the clouds as you approach the summit.

Where to stay: Beddgelert Caravan and Camping Site
For sites in and around Snowdonia National Park click here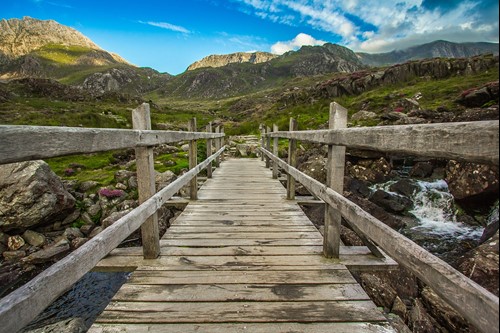 Pembrokeshire Coast National Park

On the west coast of Wales you will find the stunning Pembrokeshire Coast National Park, home to a collection of wildlife and fantastic views out in to St Brides Bay. The surrounding landscape provides a perfect setting for a range of outdoor activities, including many walks and cycling routes that cater for those of all ages.

If a UK beach holiday is what you're looking for there's no better choice. With over 50 beaches to chose from you won't be short of options, the quality of the beaches are also excellent, further illustrated by the amount of blue flags that have been awarded to many beaches across Pembrokeshire coastline. If time allows, be sure to visit Barafundle Bay and enjoy the crystal-clear waters.
Where to stay: Lydstep Beach Holiday Village 
For sites in and around Pembrokeshire Coast National Park click here


For campsites, glamping and holiday parks in Wales click here