We looked at some beaches and National Parks well worth a visit on your next trip to Devon as well as dog friendly places to stay…
National Parks
Famous for its spectacular countryside, rugged moors and rolling hills Devon is a popular spot for outdoor lovers and these two National Parks are at the centre of all of that.
Dartmoor National Park
With miles upon miles of vast open moorland, you will struggle to find a more suited location for a day out in Devon with your dog. Dartmoor covers over 300 square miles, primarily made up of open land, forests, rivers and walkways, all of which welcome dogs throughout the year and act as the perfect haven for outdoor activities that everyone can enjoy. There are many walking routes across the National Park, most of which allow you to take in the real beauty of the area with stunning panoramic views in abundance.
For sites in and around Dartmoor National Park click here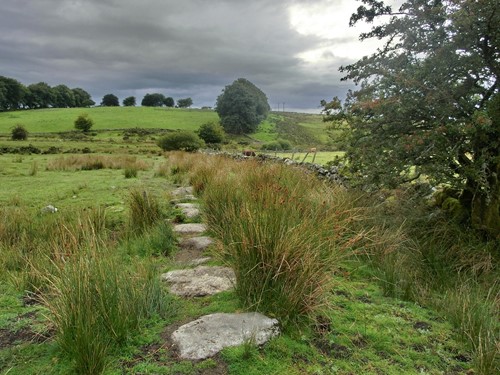 Exmoor National Park
Northern Devon is home to another stunning National Park in Exmoor, the park itself stretches across Devon and Somerset and welcomes dogs throughout the year. The heath and moorland dominates the park with some vast hills providing stunning views over the surrounding areas as you and your dog stroll through some of the most picturesque countryside Devon has to offer.
For sites in and around Exmoor National Park click here 
Dog Friendly Beaches
Devon is blessed with a collection of stunning sand and pebble beaches, a number of which make for a great day out with your four-legged friend. Rather annoyingly, some of these beaches do not allows dogs on at periods during the year, however we have hand-picked a select few that have no restrictions and are superbly located spots that your dog will love!
Slapton Sands
A walk along this 2 mile stretch of pebble beach at Slapton Sands is sure to send the dog home tired. The narrow beach at Slapton rather uniquely acts as a divide from the Slapton Ley Lake that sits only a stone's throw away from the high tide at Slapton. The beach is open for dogs throughout the year and has also been designated an 'Area of Outstanding Natural Beauty'.
For sites in and around Slapton Sands click here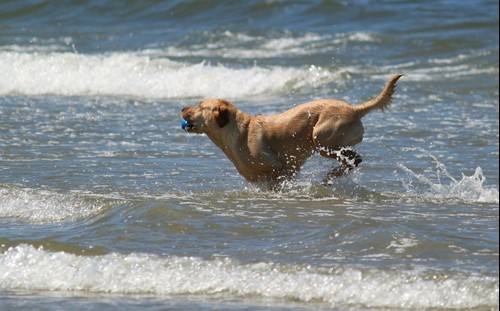 St Mary's Bay
The beach at St Mary's is a sand and shingle beach in a secluded bay that welcomes dogs all year round. If you're after a longer walk head inland and you can join one of the many coastal walks, overlooking the rocky cliffs and water below. An ideal location that is only a short drive from major towns of Paignton and Torquay, St Mary's is great for those looking for a day out in Devon with their dog whilst enjoying the wonders of the beach.
For sites in and around St Mary's Bay click here 
North Sands Salcombe
On the outskirts of the popular seaside town of Salcombe, this sandy beach is open for dogs throughout the year however be sure to check the tide times as the beach becomes completely submerged at high tide! At low tide the beach begins to appear with many rockpools and inlets waiting to be explored.
For sites in and around North Sands Salcombe click here 
Thurlestone Beach
Both sandy beaches at Thurlestone accommodate dogs throughout the year, whilst also having clear shallow water providing your four-legged friend the perfect place to cool off. The remoteness of the beaches at Thurlestone ensure they remain quiet throughout the year, making it a superb location to relax and unwind without the stress of too many people around. 
For sites in and around Thurlestone Beach click here 
For more dog friendly places to stay in Devon, search here