Finding themselves home alone one weekend, motorhome newbie Gordon Buchanan decided to take his son and dog on a spontaneous boys night away in his Autoquest motorhome from Elddis.
Gordon, his son Harris and Stewart the dog set off with no other plan than to go North. With the afternoon sun casting a golden light over Loch Lomond and the mountains further up the A82, it made for a spectacular drive and within an hour and a half they had already reached some of the most spectacular scenery Scotland has to offer.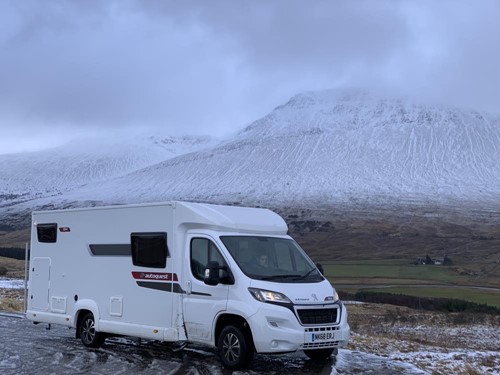 The scenic drive took them down the breath-taking Glen Etive before they eventually had to turn around in case of overnight snow (safety first!), and they parked up for the night in the car park of a hotel in the shadow of Buachaille Etive Mòr.
Even in sub-zero temperatures, with a clear sky and views like that who wouldn't want to stop to stargaze.
 'New to motorhoming, I realised last weekend that incredible night views are yet another joy of life on the road' – Gordon Buchanan
To read about Gordon's experience in full, click here.
Want to experience freedom in your very own leisure vehicle just like Gordon? Let us help you choose one to suit your needs. Find all the information you need here.