Fed up with cold days and long dark nights? Then cheer yourself up with a camping, caravanning or motorhome trip to one of these 7 natural wonders...
1.    Birling Gap & the Seven Sisters, East Sussex

Where better to visit in winter than this coastal spot with white-cliffs, dramatic seas, rugged rocky beaches, wildlife walks and the spectacular starry skies of the South Downs International Dark Sky Reserve.  Run by the National Trust there is of course, the ubiquitous but entirely compulsory café offering the necessary sustenance and shelter.  

Where to stay:

Try Normans Bay Camping and Caravanning Club Site open from end March onwards or base yourself in not too far away Brighton Caravan Club Site, which is open all year, and take in the delights of that popular town too...
2.   Barafundle Bay – Pembrokeshire

This Welsh beach has recently been named one of the best beaches in the World – according to travel magazine, Passport.  Close to Stackpole in the sublime Welsh county of Pembrokeshire, the golden-sand of this curved beach is ringed by rocky outcrops and backed by dunes and grass-lands...
It can only be accessed by a steep flight of steps via a half-mile walk from the nearest car park which may be off-putting to some but means you have an abundance of the most luxurious of  virtues to savour  – space and peace.   Perfect for a winter's day walk to sweep away the cobwebs.

Where to stay:

Only 4 miles away from pretty Stackpole where you can eat at the quaint and award-winning Stackpole Inn the Freshwater East Caravan Club has its own coastal paths beaches and rock pools to explore.
3.    Winter Swimming in Windermere, Lake District

Open water swimming is the new cycling and everywhere you'll find more and more enthusiastic proponents of what, to some of us, seems a fairly extreme form of masochism.  However, on the principle of you should try everything once you could do no better than be coached in the dark art of chill swimming by none other than Colin Hill. Hill runs Chill Swim and was the first person ever to swim the full 10km (6 miles) length of Kielder Water in Northumberland. Windermere is one of the busier lakes and does have boat traffic so guidance for first-timers is to try one of the quieter lakes such as Bassenthwaite or Grasmere or Wast Water – more advice and individual lake user guides can be found here.

Where to stay:

Braithwaite Fold Camping and Caravanning Club site is one of the most popular UK sites and opens from the first weekend in February or Windermere Camping and Caravanning Club site opens from 10 March onwards.  Or check out other sites in the Lake District in our pitch finder.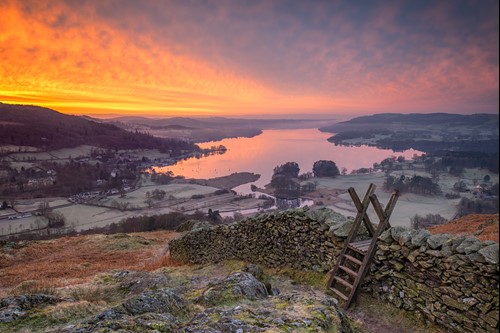 4.    Winter Wildlife River Trip

The RSPB runs winter guided walks in reserves across the country.  Mostly free you can find a list of all upcoming walks here. The Winter Wildlife River Trip takes place in Suffolk and involves a 2.5 hour trip on the boat Regardless through the Alde-Ore Estuary and Butley River with a RSPB volunteer guide who will help you spot wintering birds and other wildlife.  

Where to stay:

Depending on the walk you pick to try you can find a campsite using our pitch finder.  In Suffolk you could try the Kessingland Camping and Caravanning Club site which is only a mile from the Suffolk coast or White House Beach Caravan Club site which is directly adjacent to the beach.
5.    Falkirk Wheel and the Kelpies

Ok, so these are not natural wonders. However, we have included what has transpired to be Scotland's most popular tourist attraction as even on the harshest of winter days you cannot fail to be spellbound.  Sited nearby, you have on the one hand, a marvel of engineering that will delight all ages and on the other, majestic larger-than-life statues that shimmer and lift the spirits on even the dullest of days.  The Falkirk Wheel is a rotating boat-lift that connects 2 canals – you can book a ride within the rotating pods and is a unique experience.  Meanwhile the Kelpies – the world's largest equine sculptures are situated in The Helix a brand new park with cycle paths and adventure play zone.

Where to stay:

The Blair Drummond Caravan park is also well situated for the Loch Lomond and The Trossachs National Park and Stirling Castle. Likewise the Woods Caravan Park has great views of the Ochil Hills and is a great base if you want to explore further towards Perth.
6.    Game of Thrones Spotting, Northern Ireland

As we all know "Winter is coming".  And what better season to cast yourself in the footsteps of Arya, Jon Snow, Samwell, Rickon, Hodor, Sansa and, heaven forbid, Theon/Reek than the desolate, darker winter months.  Visit Ireland have a perfect 4 day itinerary that takes in some of Northern Ireland's most epic scenery that was the locations for many a memorable GoT scene including Riverlands; Castle Ward which was used as Winterfell; Quintin Bay which was where Jaime Lannister finds Bronn; Cairncastle that was Moat Cailin and the caves where Melisandre gave birth to the monstrous "baby shadow". Alternatively Bunk Campers has shared this fantastic driving route around Northern Ireland's Seven Kingdoms...

Where to stay:

Try the Jordanstown Loughshore Caravan Park on the edge of Belfast Lough or Six Mile Water Caravan Park on the shores of Lough Neagh or there is the family-run Murlough Cottage Caravan Park with spectacular views of the Mourne Mountains.
7.    Wookey Hole Caves, Somerset

Don't want to be outside braving the elements but still want to admire a marvel of nature? Wookey Hole caves could be your answer.  Determinedly tourist-friendly they are a great day out for families looking for something a bit different. Very near to the equally impressive Cheddar Gorge – worth a look-see in its own right – there are caverns a witches Parlour to explore and, of course, some of that world-renowned cheese to sample.

Where to stay:

The Cheddar Caravan Club site opens 3rd March and the Cheddar Mendip Heights Camping and Caravanning Club site opens 16th March – for an all-year-round site try the Bath Chew Valley Caravan Park which is still only 13 miles from Wookey Hole itself.