Cosy Caravanning: Despite the long summer nights drawing in and the weather taking a chillier turn, there is no reason to dispel caravanning from your winter holiday...
Cosy Caravanning: keeping warm and safe this winter
Despite the long summer nights drawing in and the weather taking a chillier turn, there is no reason to dispel caravanning from your winter holiday options. Touring the UK with a caravan not only offers you and your family the freedom to explore the picturesque British countryside at your leisure but also the perfect cosy resting place.  
All over the UK a wealth of sites remain open: whether you want to wander in Wales, see what is happening in Hampshire or even experience London's spectacular Christmas lights. Some of you may be worrying however about being more exposed to the elements and the logistics of winter caravanning. So to qualm your questions here are some top tips to ensure that your wintertime caravan adventure runs smoothly.
keeping your caravan cosy 
With the UK being known for its bitter winter weather there are a few additional considerations you may have to take into account when pitching up. A solid investment to keep your caravan invitingly warm is a small electric heater. Leaving it on at a low level throughout the day will ensure that the temperature will stay ambient and above freezing. Then turn up the heat when returning from your day of exploring before returning to a low level overnight. This will reduce any risk of overheating or fires. Be sure, however, to double check if your site allows artificial heaters onsite as some prohibit their use.
Another useful caravan addition you may also consider is an awning. As well as being perfect for storing your families' muddy boots and messy clothes, an attachable porch will preserve heat already inside and stop any cold air from rushing in. Finally draft exclusion could be the difference between a dreadful drafty night and a totally toasty evening. Use towels or cushions at the bottom of doors and windows or fit a curtain over the door are simple ways to keep the heat inside your caravan...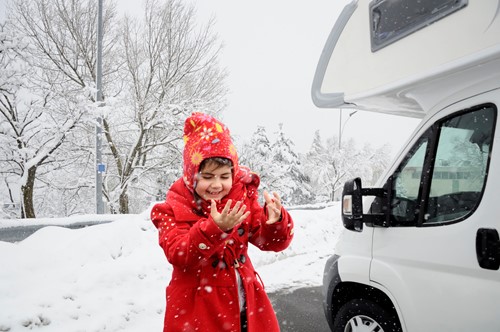 Taking care when towing 
With a heavy load and full family to transport extra care needs to be taken - but with a few preparations towing needn't be so daunting. First of all be sure to plan your direct route, to avoid any chance of getting lost or stuck in small country roads. It is always a good idea to take an emergency kit with blankets, a torch, warm clothes, shovel, de icer and an ice scraper.
Just before setting off remember to check your tire pressure: with an extra heavy load be sure that it is high. Of course there are the obvious dangers of snow and ice which are even more challenging with a caravan in tow. Delicate breaking and increasing your stopping distance are easy ways to avoid any unnecessary crashes or bumps. In snow, drive in the highest gear possible and at a slower pace than usual to offset any wobbles.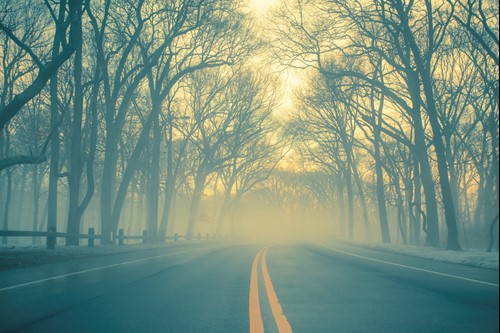 Where to go for your winter adventure 
The UK is not only home to some of the most picturesque places for wintry walks but also have some of the biggest events over the festive season. For a combination of the two visit The New Forest in Hampshire. As one of the country's' protected national trust sites, The New Forest has plenty of quality sites which remain open off season. As well as The New Forest itself being a beautiful place to explore, with a network of quaint villages and plenty of pubs to spend wetter days within, it is also in a great location to see the rest of Hampshire. Take a day trip to England's former capital from the  19th November until 22nd December to experience the traditional christmas market, set in the cities' cathedral grounds. Whether you're looking for a unique christmas present or fancy a spot of night time ice skating; it has something to offer for the whole family.
For a more rural retreat take a trip to South Wales. The Brecon Beacons, with its stunning mountain ranges, vast lakes and hidden waterfalls is simply stunning during the winter months. Being within easy driving distance of Cardiff, it is in a prime location to fully experience what cardiff has to offer.  Caravanning is by no means limited to countryside holidays. For those of you more inclined to city breaks, there are plenty of sites in and around the biggest cities in the UK. Getting accommodation and travelling to London can be stressful, however taking your caravan to a nearby site is your best bet in a getting an affordable and comfortable place to stay. London comes alive at christmas, with a multitude of christmas markets, spectacular christmas lights and endless options for shoppers. Imagine coming back to your cosy caravan after a festive day in bustling London: is there any better option?
So there you have it: places to go, towing tips and how to keep toasty along the way. With just a few preparations and clever tricks your families' caravanning adventure is sure to be  full of festive cheer.
Plan your next camping holiday with our campsite finder. Alternatively, find a rental or dealer. 
Comments below and share your favourite places to stay in the UK.
 Blog article by The Camping & Caravan Club