A few activities we think you might enjoy on your next trip to Scotland...
Canoe on Loch Ness
Home to the Loch Ness Monster, a paddle across the Loch is not for the feint hearted. The Loch is vast in size, stretching from Fort Augustus in the South right up to Lochend in the North with over 20 miles of water waiting to be discovered. The stunning mountainous backdrop as well as the calm water ensure a great time can be had by those of all ages and abilities. If you are short of practice or want any further guidance the team at In Your Element can help provide equipment as well as guided tours.
The surrounding area is also well worth a visit with many small and secluded villages rich in history offering a range of shops and restaurants. The remains of the ever-popular Urquhart Castle can also be explored whilst providing a stunning vantage point allowing views up and down the loch. A stay in a leisure vehicle provides the freedom to explore the local area and pitch up at many surrounding sites.
Where to stay – Loch Ness Shores Camping and Caravanning Club Site 
For more sites in and around Loch Ness click here
Dive off the Hebrides
There are many locations to dive off the coast of Scotland, however one in particular sticks out. The Isle of Skye is one of the many Hebridean Islands and is fortunate enough to have a range of underwater scenery including undiscovered wrecks and untouched reefs, all of which can be viewed with ease due to the clean and clear water.
The secluded and quiet island means a trip here is a perfect escape with very few people diving. If you're there for the underwater wild life, then you won't be disappointed with sightings of dolphins and many other weird and wonderful creatures a regular occurrence. For more information on diving and how to get involved with some organised trips visit Dive & Sea the Hebrides
Where to stay – Skye Camping and Caravanning Club Site
For more sites in and around the Isle of Skye click here 
Explore one of the many Castles
Famously known for its vast collection of Castles, many of which are still in fine shape today, visiting a castle on your next trip to Scotland is a must.
Whether it's the ruins of a 16th century fortress or a perfectly well-preserved structure, these castles are sure to amaze with their stunning backdrops as well as many interesting stories about how these strongholds once operated. Several castles however, do stand out from the rest. Fyvie Castle in Aberdeen is popular for it's stunning structure and romantic feel, whilst Scone Palace in Perthshire was once the crowning place of Scottish Kings including Robert the Bruce. Don't restrict yourself to one location of this fabulous country, enjoy a leisure vehicle holiday and go where you want when you want.
Almost all of the castles have many stories that surround their existence, allowing you to take a step back in time and understand what life may have been like all those years ago. For a comprehensive round up of the castles in Scotland click here 
For places to stay during your trip, take a look at our Find a Pitch tool here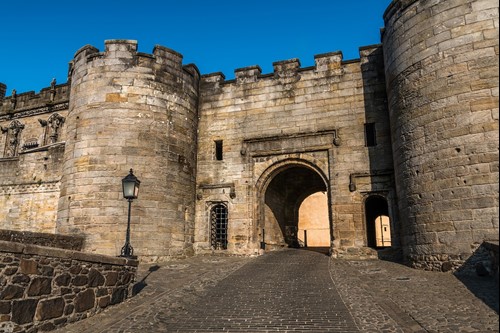 Fish for Salmon
Well known as the 'home of salmon fishing', Scotland has many rivers and waterways that have Atlantic Salmon in abundance. Some of the largest and most popular rivers include; The Spey, The Dee and The Tweed, all of which have a community of ghillies and guides, providing you with vital information of the area that will help you catch your salmon. The superb location will ensure this fishing trip is one to remember as you enjoy some of the finest salmon fishing in the world with the stunning Scottish countryside as the backdrop.
If you're looking for an experienced guide to help you get out and about and land one of the sought after Salmon, Jock Monteth Salmon Fishing Guides provide a range of trips across many rivers across Scotland.
For places to stay during your trip, take a look at our Find a Pitch tool here 
FOR MORE CAMPSITES, GLAMPING AND HOLIDAY PARKS IN SCOTLAND CLICK 
HERE