Cambrian Way
Taking you on a route through two of the finest natural parks Wales has to offer, Snowdonia and the Brecon Beacons, the Cambrian Way is a journey that cuts right through the centre of Wales and allows you to get a true feel for the country. The journey will see you travel through a variety of locations, beginning from the built-up capital of Cardiff to the rolling hills of Snowdonia. 
There are sure to be many opportunities along the way to get out and about and explore the area further on foot, boat or two wheels.
Cardiff - The largest city in Wales, with stunning views out over the Severn Estuary, you won't run out of things to do during your time here. There are a range of castles, parks and museums waiting to be explored whilst the ever famous 'Barry Island Pleasure Park' is only a short journey from the centre of Cardiff. 
For sites in and around Cardiff click here
Brecon Beacons - This iconic National Park is an outdoor lovers haven. A range of activities, all of which will further your love for the area include fishing, rock climbing, kayaking and underground adventures. There are also many iconic landmarks well worth a visit including the Pen-y-Fan mountain and the Sgwd yr Eira waterfall. 
For sites in and around Brecon Beacons click here
Snowdonia - Located on the North West side of Wales, this is where your journey along the Cambrian Way will come to an end, and what better place to end your epic adventure than here. Famous for its panoramic views and vast mountains, Snowdon continues to attract those from across the country whilst acting as a hub for anyone wanting to get outdoors in an environment like no other. 
For sites in and around Snowdonia click here 
The Coastal Way 
Coast by name, coast by nature. This route will see you travel just under 300km of coastal path on the western side of Wales, travelling through popular coastal towns including St David's and Aberystwyth. The route may see you discover many hidden bays and beaches, all of which provide the ideal opportunity to relax whilst overlooking St George's Channel and take in the views of the nearby mountainous regions. The route, similar to that of The Cambrian Way does also take you through the ever-popular Snowdonia National Park where you will find a vast collection of things to do and places to explore.
Coed y Brenin Forest Park - Located in the stunning Snowdonia National Park, the Forest Park has lots on offer for visitors of all ages. A superb spot to get out of the leisure vehicle and hop on to a bike whilst exploring your surroundings along one of the many biking trails throughout the park. 
For sites in and around Coed y Brenin Forest Park click here 
Aberystwyth - The traditional small coastal town of Aberystwyth makes for a great location to explore one of the finest beaches the region has to offer. Head further inland and you'll find some stunning welsh countryside coupled with picturesque views and valleys waiting to be discovered. 
For sites in and around Aberystwyth click here 
The North Wales Way 
Beginning in the western most point of the Isle of Anglesey, this North Wales Way route is like no other. You will travel across the length of Northern Wales through many small seaside towns and villages including Llandulas and Penmaenmawr, whilst taking in the stunning scenery the region has on offer. A true coastal route providing ample opportunities to get out and about to discover some of the best beaches within the region.
Anglesey - A welsh island off the North Western Coast and also starting point for the North Wales Way road trip. The Isle itself is known for it's glorious beaches and small rocky coves however there's more much to Anglesey than that. You are sure to come across one of the many historical sites, with castles, museums and a rather popular historic lighthouse all accessible. 
For sites in and around Anglesey click here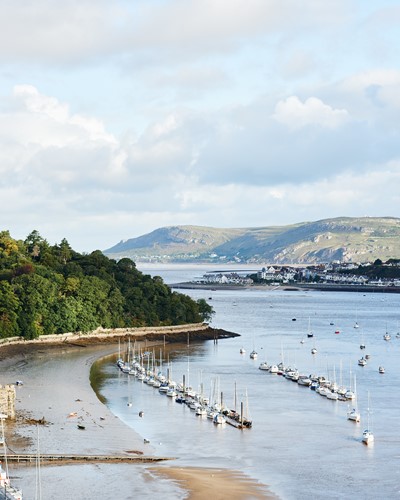 Llandulas - Acting as the midpoint of the North Wales Way road trip and where the River Dulas meets the sea, this small seaside village is well worth a visit.  With coastal walkways and sandy beaches, for those who desire a peaceful break away from the hustle and bustle of the city then this is it.  
For sites in and around Llandulas click here