Sandy beaches, romantic ruins and captivating coves, there are so many reasons to escape to Cornwall. Live the Cornish dream with our pick of the top 5 unmissable places to stay and visit in Cornwall...
1. Kynance Cove

Kynance Cove, is revered as a Cornish gem. It's characterised by white sands, turquoise water and serpentine rocks smoothed by the sea. The cove regularly features on lists of the most beautiful beaches in the world, and on a sunny day at low tide, you'll see why it deserves this accolade. 

There are numerous walking routes stretching between Kynance and Mullion offering walkers fantastic wild scenery accessible to most abilities (with appropriate footwear). The beach is hidden among towering cliffs, stacks, arches, large islands of serpentine rock which rise from white sand and celebrated/acclaimed turquoise water; combining to make it one of the most photographed, filmed and painted beaches in Cornwall.

There is so much to discover in Kynance Cove that we are sure you will work up an appetite. The idyllic café on the beach run by Luke and Vicky is open from Easter to the end of October half term and serves local ice cream, sandwiches, tea and coffee and even locally brewed beer. They also cater for gluten/wheat free visitors.
Where to stay:
Sea Acres Holiday Park - 4.04 miles from Kynance Cove

Mullion Holiday Park, Helston - 5.17 miles from Kynance Cove
Find more campsites near Kynance Cover here.
2. Glendurgan Gardens

Fancy a stroll through a peaceful, exotic and playful valley to a heavenly sheltered beach? Then Glendurgan Gardens is the perfect place for you.  

There are three valleys in Glendurgan to lose yourself in. You will find huge trees and exotic flowers thriving in the jungle-like lower valley where sun-living specimens enjoy basking on the upper banks. In Spring thousands of wild flowers create a colourful blanket on the slanting sides of the valley.

Wondering through the garden will lead you to the unspoilt hamlet of Durgan on the Helford River; which is the perfect place to watch birds, skim stones and build sand castles...
You will also find a variety of fish and crabs taking refuge in the large rock pools waiting for the tide to whisk them away.

The maze and giant swing are the perfect distractions for children – sounds like a grand day out if you ask us!
Where to stay:
Carnon Downs Caravan Park - 13.38 miles from Glendurgan Gardens
Merrose Farm Caravan Club Site - 14.86 miles from Glendurgan Gardens
Find more campsites near Glendurgan Gardens here.
3. Botallack Mine

You will find Botallack Mine on the Tin Coast, housing the iconic Crowns Engine Houses that cling to the Cornish cliffs. There are two engine houses and their mines extend for approximately 400m out and under the Atlantic ocean which was once the site of one of the most populous mines in the area.

If you find the views from Botallack amazing and fancy staying a little longer, look out for the Isles of Scilly whose silhouette can be spotted as the sun sets during the summer months.

We don't suppose you've heard of a television series called "Poldark"? Well it just so happens that the 1970's BBC Poldark series was filmed partly in Botallack, using Manor Farm as Nampara.
Where to stay:
Trevedra Farm - 5.3 miles from Botallack Mine
Sennen Cove Camping & Caravanning Club Site - 5.39 miles from Botallack Mine
Find more campsites near Botallack Mine here.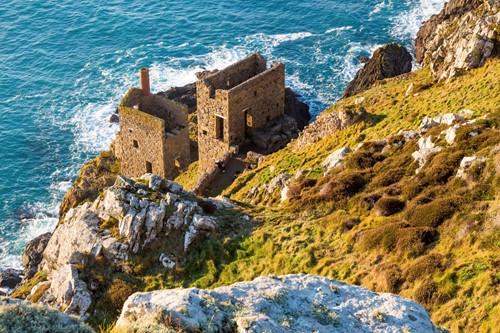 4. Lanhydrock

If you like the idea of looking around a magnificent Victorian country house, then Lanhydrock is the place for you.
Discover life 'below stairs' and explore the servant's chambers, kitchen, nurseries offering you a thrilling glimpse into one side of Victorian life. Once you finished exploring downstairs you can venture up to the luxurious family areas, elegant dining room and spacious bedrooms which reveal the comforts of 'upstairs' living.

It doesn't matter what time of the year you visit Lanhydrock as the extensive gardens are in colour all year round. And not to mention the estate, with ancient woodlands and tranquil riverside paths. You can even hire a bike to make the most of your visit.
Where to stay:
Hoburne Doublebois - 11.28 miles from Lanhydrock
Camelford Caravan Club Site - 15.2 miles from Lanhydrock
Find more campsites near Lanhydrock here.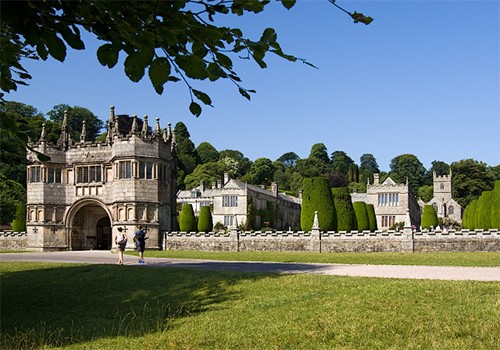 5. St Michael's Mount

The iconic rocky island is crowned by a medieval church and castle. Immerse yourself in the wonder of the architecture and history and discover the legend of Jack and the Giant Killer.

Enjoy the breathtaking views of the outstanding Mount Bay surrounded by the subtropical terraced garden.

You can walk across the causeway during low tide, or perhaps you would prefer to take a short evocative boat trip to the island? Whatever you choose, we know the view will be stunning.
Where to stay:
Marazion Caravan Club Site - 4.28 miles from St Michael's Mount
River Valley Country Park - 5.51 miles from St Michael's Mount
Find more campsites near St Michael's Mount here.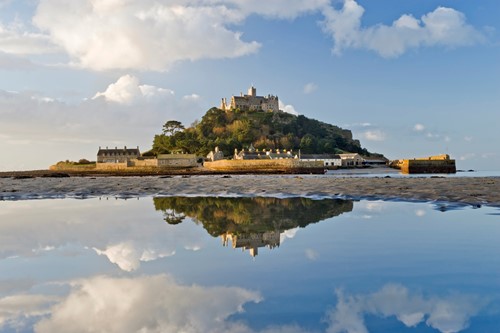 ---
 Want to escape to Cornwall? See below for links to get you on your way: