Get caught up in the Six Nations fervour with our pick of the best campsites and pitches near the stadiums and close to the action...
Will 2017 be England's year again?  Starting next weekend, there follows 5 weeks of punishing, pulsating, national-pride stoking, blood-tingling, exhilarating displays of prowess on the rugby field involving the 2016 champions, England, fellow home nations Ireland, Scotland and Wales and our European neighbours France and Italy.  For avid rugby die-hards or those simply caught up in the accompanying fervour here is our guide to fixture-filled weekends away…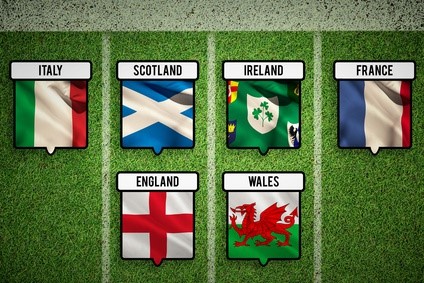 Cardiff
Ask a Welshman what his national sport is and the chances are he'll nominate rugby. Cardiff's splendid Principality Stadium is the iconic jewel in the nation's sporting crown with a retractable roof and state of the art removable turf. If you can't get to the stadium itself a trip to Cardiff will deliver almost as much in atmosphere that spills out into every corner of the City. Wales will host matches against Ireland and England in the Principality Stadium.
Where to stay:
Try Tredegar House Country Park Caravan Club site which is close enough to the M4 to make the 7 mile trip to Cardiff a breeze. Within a country park the campsite contains a 17th Century orangery, gardens woodland and adventure playground – all open throughout the year. There is also Cardiff Caravan Park located right alongside the river Taff and near to the University.
Where to watch:
You'll be spoilt for choice in Cardiff. Pick almost any pub or bar in the city and you'll find a warm welcome for fans of the oval ball. Near the stadium you could try The Old Arcade with its legendry showcase of rugby-related memorabilia and 7 screens or The City Arms which will be packed to the rafters with full-lunged Welsh support. Elsewhere you could try The Prince of Wales which is an old theatre and boasts a suitably large 20 foot screen plus 8 other TV screens. If you want to stay out of the city centre then try The Eli Jenkins in Cardiff Bay where you can book a table to sit back and watch and eat in comfort...

Dublin
Fresh from their victory over New Zealand (the first in 111 years) last November, Ireland are riding high and currently ranked 4th in the world. As such, all of Ireland expects great things from Rory Best's team in the 2017 tournament – no pressure then.
Where to stay:
Camac Valley Caravan and Camping park – open all year this campsite is situated on a 300 acre estate with fishing and walking on tap, yet only a short bus ride from outside the front gate to Dublin. A bit further north right on the coast is North Beach caravan and camping park, close to the Dublin Port and Airport. 
Where to watch:
Dublin is famed worldwide for the friendly welcome its pubs provide for visitors. All that is magnified on match days and you'll find plenty of the legendary craic in city centre venues such as Sinnotts Bar in King Street – with 14 large screens there is no excuse to miss a single second of the action. Sam's Bar has a huge HD projector and has been known to be visited by the Irish team itself after matches. In the Goatstown area of South Dublin, The Goat Bar & Grill on the Kilmacud Road is worth a visit on match days – especially if atmosphere is more important to you than breathing space. For something slightly different try The Back Page – tasty pizzas and a bit more space and relaxation alongside your on-screen entertainment.
Murrayfield
The opening match of the 2017 Six Nations is between two Celtic nations - Scotland and Ireland - both rightly proud of their fans' good-natured passion. A trip to Edinburgh over match weekends will no doubt involve a lot of interaction with jovial supporters in full-voice – no matter the result. Scotland will also be playing at home to Wales and Italy.
Where to stay:
Edinburgh Caravan Club Site is situated to the north-west of the city and has all year pitches. Alternatively take a look at our pitch finder for more sites in Edinburgh.
Where to watch:
If you aren't lucky enough to get your hands on tickets there are plenty of places to soak up the atmosphere outside the grounds. In Edinburgh itself you can find plenty of pubs showing the game – Rose Street is a renowned destination in Edinburgh's New Town where you'll find lots of bars catering for rugby fans such as The Amber Rose where you can book a table for the fixture -- or try the West End and the famous Teuchters or, for Irish or non-Scots fans, McSorley's Irish Bar on Forrest Road or the new Malone's on the Mall may be some of the best places to be.
Twickenham
The "big beasts" of the Six Nations, England and France face-off on what might be the tournament-defining match on the first Saturday in Twickenham, South-West London. England are defending their 2016 victory and France, well, let's just say they have a lot to prove… Other home fixtures for England are the Calcutta Cup against Scotland (held by England now since 2009) and Italy.
Where to stay:
There are some great all-year caravan and campsites in the vicinity of London – those like the Chertsey Camping & Caravanning Club site on the banks of the Thames is a 12 miles road-trip downriver or if you prefer something actually within London to take advantage of other non-rugby related opportunities and great transport links then try the Crystal Palace Caravan Club site which has direct bus links to central London and rail connections.
Where to watch:
Many of London's bars will be showing the match and if you don't mind crowds then some of the most popular venues include:
The Cabbage Patch lays claim to the epithet "the most famous rugby pub in the world" and given its location outside the "home" of rugby itself, Twickenham stadium, perhaps that's not surprising. Suffice to say on match days this pub is not quiet – and a fair few fans may agree with its boast. Also in Twickenham, near the river and Eel Pie island there is the tradition-suffused rugby haunt The Eel Pie. If you don't want to venture into the Twickenham fans' heartland there are plenty of other options throughout London – try the Lamb and Flag in Covent Garden or if the sun is shining, where better, than Pub on the Park in London Field's where they have 7 big screens including a covered and heated outdoor screening area.
Anywhere in the UK:
Of course, you don't have to visit one of the home nation capital cities to factor a bit of rugby watching into your weekend away. First use the Freedom to Go pitch finder and pick your campsite. Then, to be sure of seeing any of the games, you can use https://www.matchpint.co.uk to search for pubs nearby that are screening the fixtures and also filter by additional features such as whether they serve food and pets are welcome. Simple. Now, what are you waiting for?...
---
MATCH GUIDE
WEEK ONE
Saturday 4th February
Scotland vs Ireland – Murrayfield, Edinburgh 2:25
England vs France – Twickenham, London 4:50
Sunday 5th February
Italy vs Wales - Rome 2:50
---
WEEK TWO
Saturday 11th February
Italy vs Ireland - Rome 2:25
Wales v England – Principality Stadium, Cardiff, 4:50
Sunday 12th February
France vs Scotland - Paris 3:00
---
WEEK THREE
Saturday 25th February
Scotland v Wales - Murrayfield, Edinburgh 2:25
Ireland vs France – Aviva Stadium, Dublin 4:50
Sunday 26th February
England v Italy – Twickenham, London 3:00
---
WEEK FOUR
Friday 10th March
Wales v Ireland – Principality Stadium, Cardiff 8:05
Saturday 11th March
Italy v France - Rome 1:30
England v Scotland – Twickenham, London 4:00
---
WEEK FIVE
Saturday 18th March
Scotland v Italy – Murrayfield, Edinburgh 12:30
France v Wales - Paris 2:45
Ireland v England – Aviva Stadium, Dublin 5:00